Kindle Hacks Galore – Wireless charging, hard wired power, magnetic wall mounts!
0
The 7″ kindle fire is a great deal for a tablet, when you can pick up 5 of them and get 1 free it's pretty hard to resist trying out as a home automation tablet. So I bought 5 of them.
My goals were:
No visible wiring
Clean mounting
Easily removed to deal with software updates and stuff

After an afternoon, I ended up with something that satisfied all these requirements: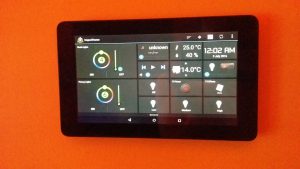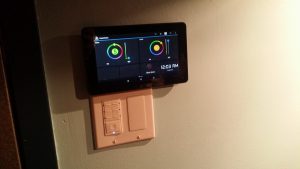 Step 1: Ripping them apart
This was easy. Insert knife or other tool into the crack, and pry it apart. They come apart reasonably easily and go together just the same.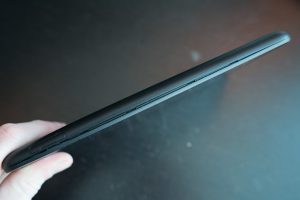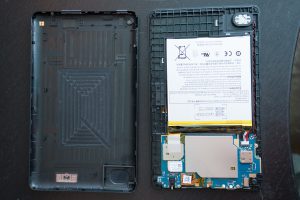 Step 2. Finding Power
I tapped into VCHG on the usb port and ground on the outside of the usb connector, visible in the top left.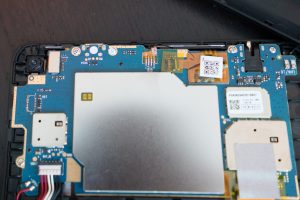 Step 3. Adding a power cable
I drilled a hole in the back and dropped a JST pigtail through, since I didn't want to have to drill a wall hole big enough for a USB cable. I didn't think to grab a picture of this actually soldered, but see below for a closer example.
Step 4. Making the USB charger fit in a regular electrical box
This is probably not to electrical code. I take no responsibility for burning down your house. If my insurance company is reading this after I burnt down my house, I swear these pictures are not of my house.
Wrap cable around prongs, apply solder, heat shrink, bend it to make it smaller, wrap it in more tape, then shove it into the wall. Not pictured here is the modded USB cable that now has a JST connector where the microusb connector used to be.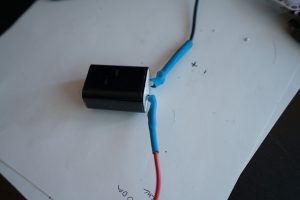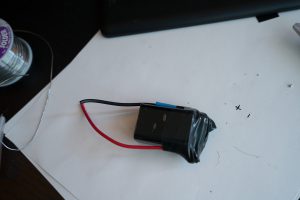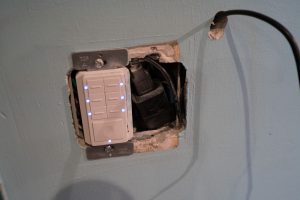 step 3. Magnets!
I discovered the back of the Kindle was magnetic, so after trying magnets of various sizes I found 4 that seem to hold it on reasonably well.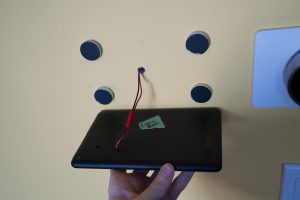 I'm *sure* there's a cheaper source online, but I bought these locally since it was faster. I used the 1″ magnets, cups and high-friction disc's listed here: http://www.leevalley.com/en/hardware/page.aspx?p=32066&cat=1,42363,42348 With 4 of them the tablet is reasonably well secured, but without the high-friction discs it would definitely slide down.
Step 4. Wireless? Why not.
Although most were going onto walls, I also wanted one or two portable ones. My intention is to do another wall mount where you can just pull the tablet off and use it on the couch, then you drop it on and it lines up with the charger. This is a cheap USB addon charger I got off amazon.
Deciding on positioning: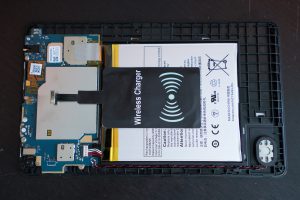 Chop the micro usb connector off and scratch the coating off with a knife to expose bare metal: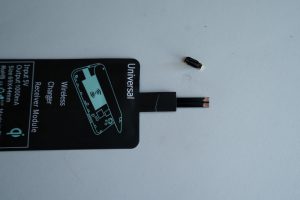 Test with a charger to confirm polarity: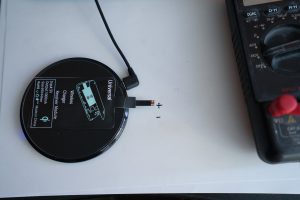 Solder and wrap in tape: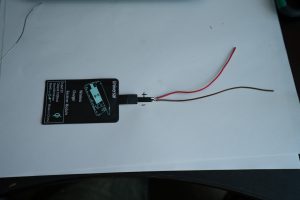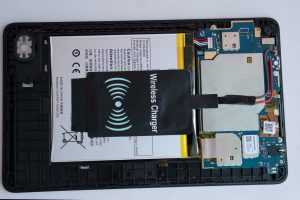 Soldered in and taped down. The back has an ever so slight bulge near the USB connector due to the thickness of the power wiring I used, but otherwise it's pretty much unnoticable.
Successful wireless charging!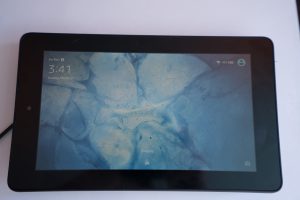 Step 5: Software
I use the stock kindle OS still, but they're all rooted to install the play store and nova launcher. From there I use Imperihome. I'm not going to get into how to root it since that changes frequently based on the kindle OS version and amazon's updates. Look on the xda-developer forums.